Other Brands
Mens Classic Long Wallet, Large Model - Beautiful Designs Is Carved Out Of Cowhide - Handmade

- Hand-Made Patterns And Coloring

- Material: Cowhide

- Zipper Closure Pocket

- Size: L*W*H 20CM*10CM*2.5CM

- This Wallet Come With Dust Bag, Box

- Have In Stock

Each Accessory Is A Work Of Art - Handmade [ Cowhide Art ] - Carved Out Of Cowhide !

Bags And Accessory Can Also Be Custom - Made To Suit Your Own Requirements.

Buy Designer Handbags, Best Price And Quality! Free Worldwide Shipping, Free Returns!

A Great Selection Of Genuine Leather Handbags,Totes, Clutch, Designer Shoulder Bags, Wallets & More!

Each Bag Is A Work Of Art, (Can Custom-Made) Handmade [ Cowhide Art ] - Bags Are Carved Out Of Cowhide.
Other Brands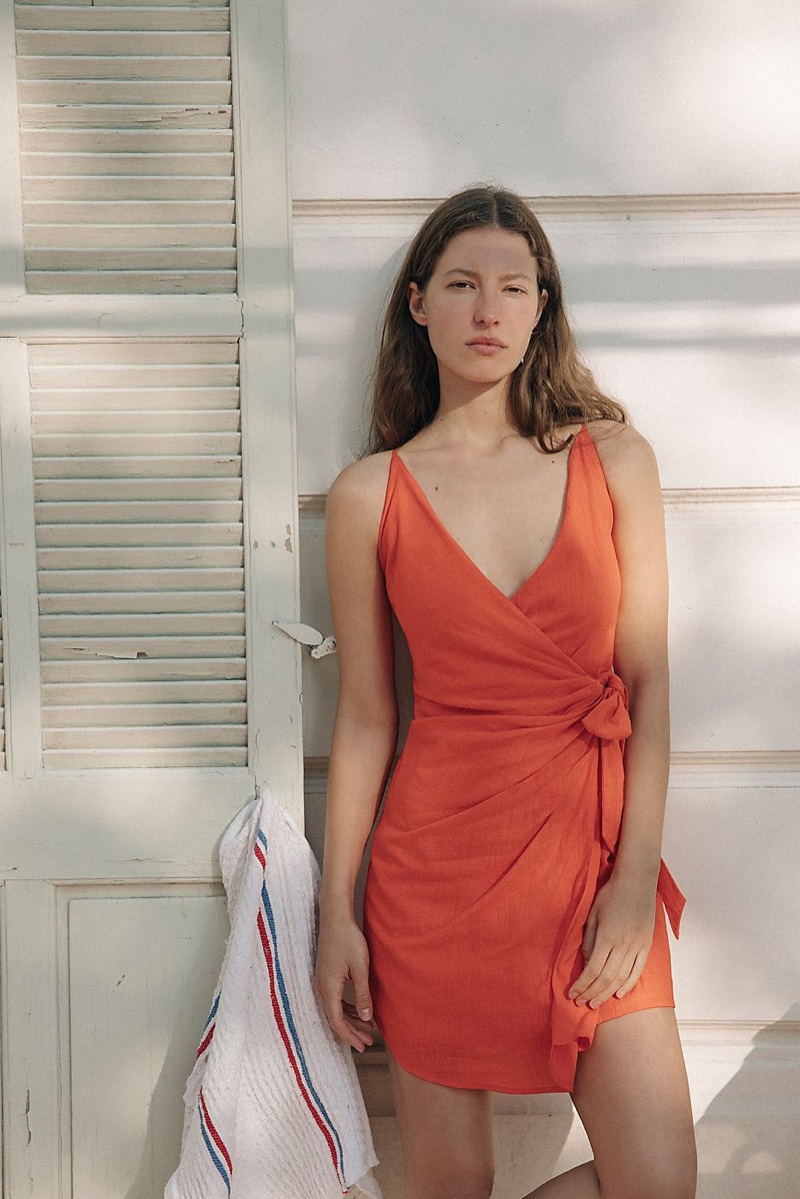 Free People 'Noida' Mini Dress
Free People travels to Provence, France, for its new trend guide called, 'Wild Flower'. The fashion shoot stars model Marlene Kohrs in summer-ready styles. The lookbook features a mix of airy dresses, body conscious sets and crop tops. A color palette of white, khaki, orange and yellow exudes pure warm weather vibes. Paired with slide sandals and woven tote bags, these pieces offer effortlessly chic style.
Related: Summer in the City | 8 Warm Weather Looks From Free People
FREE PEOPLE 'WILD FLOWER' 2018 DRESSES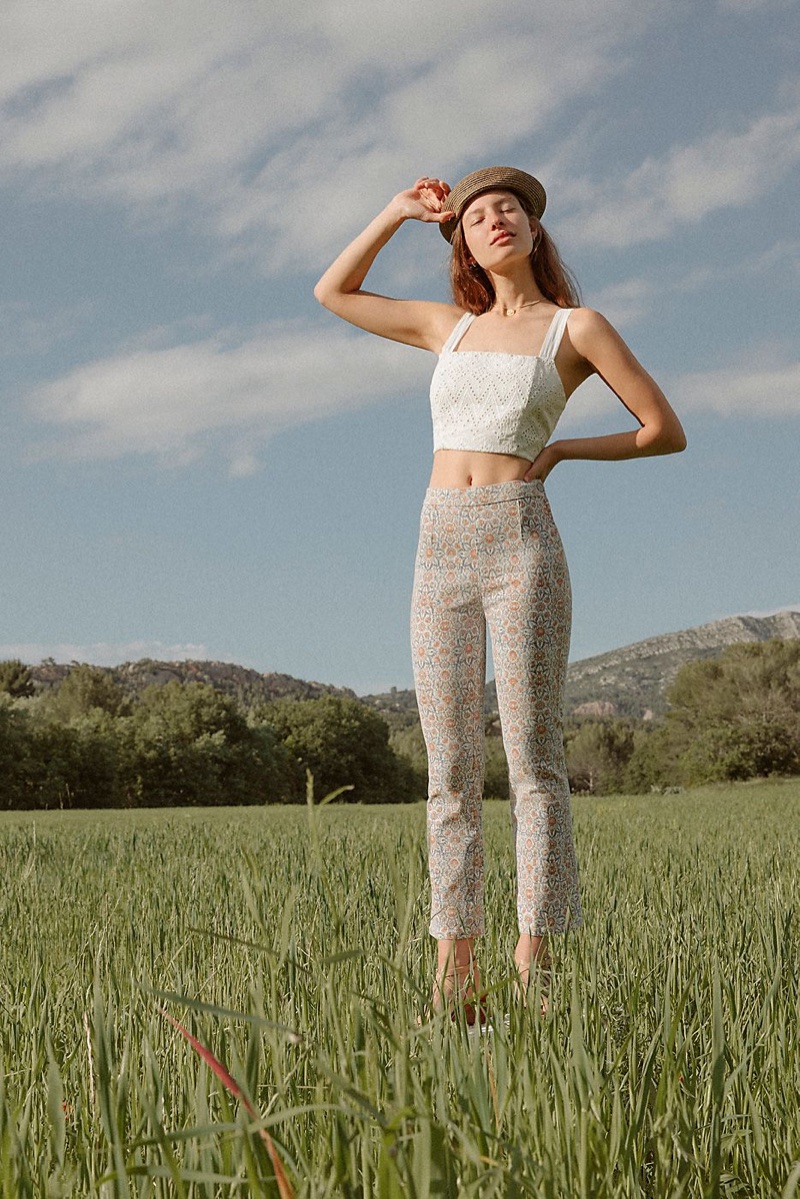 Intimately Free People 'Mon Cheri' Crop Top, Free People 'Frida' Crop Flare Jeansand Brixton 'Audrey' Straw Beret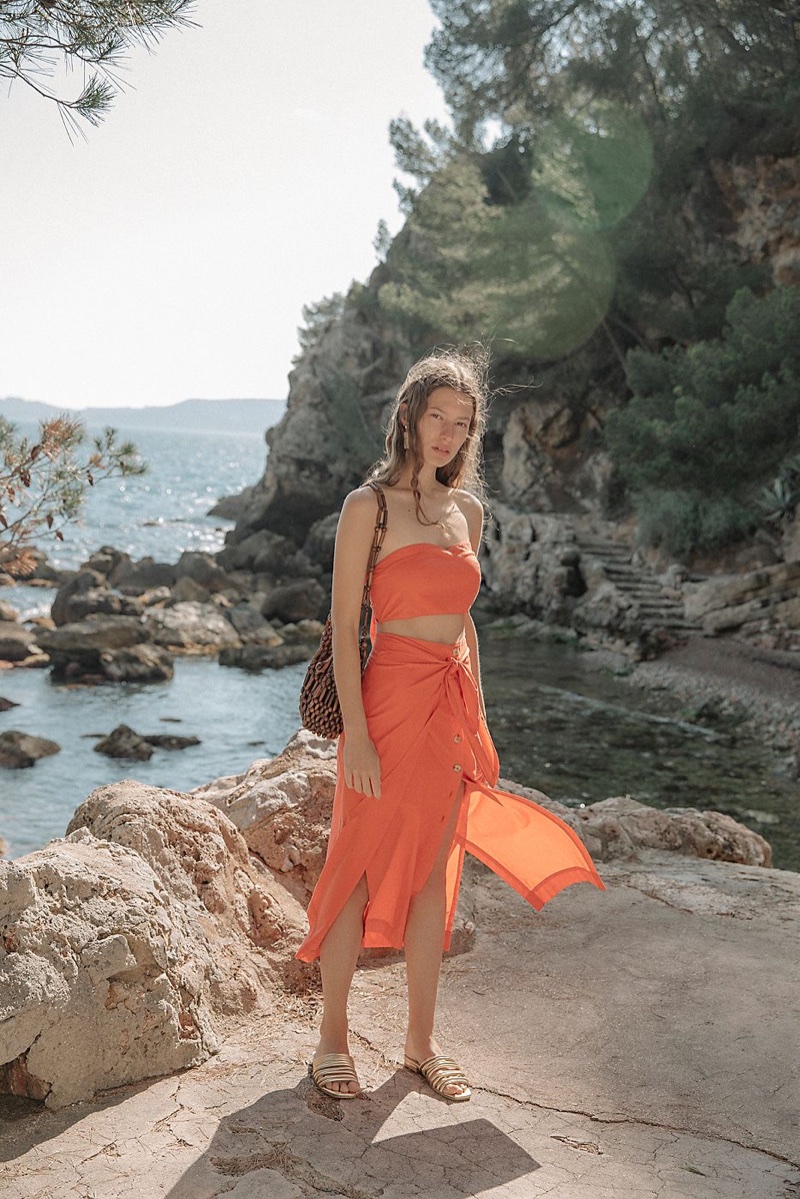 Endless Summer 'Sunny Sun' Set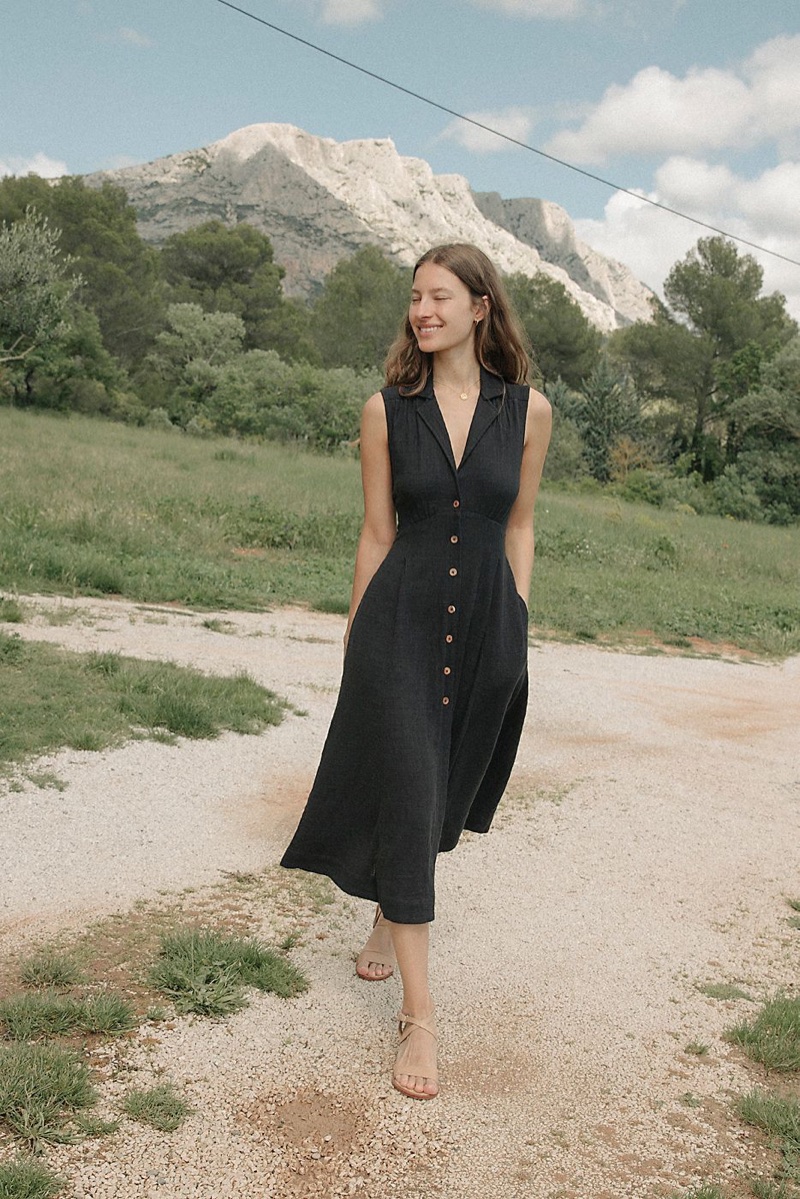 Endless Summer 'Isola' Midi Dress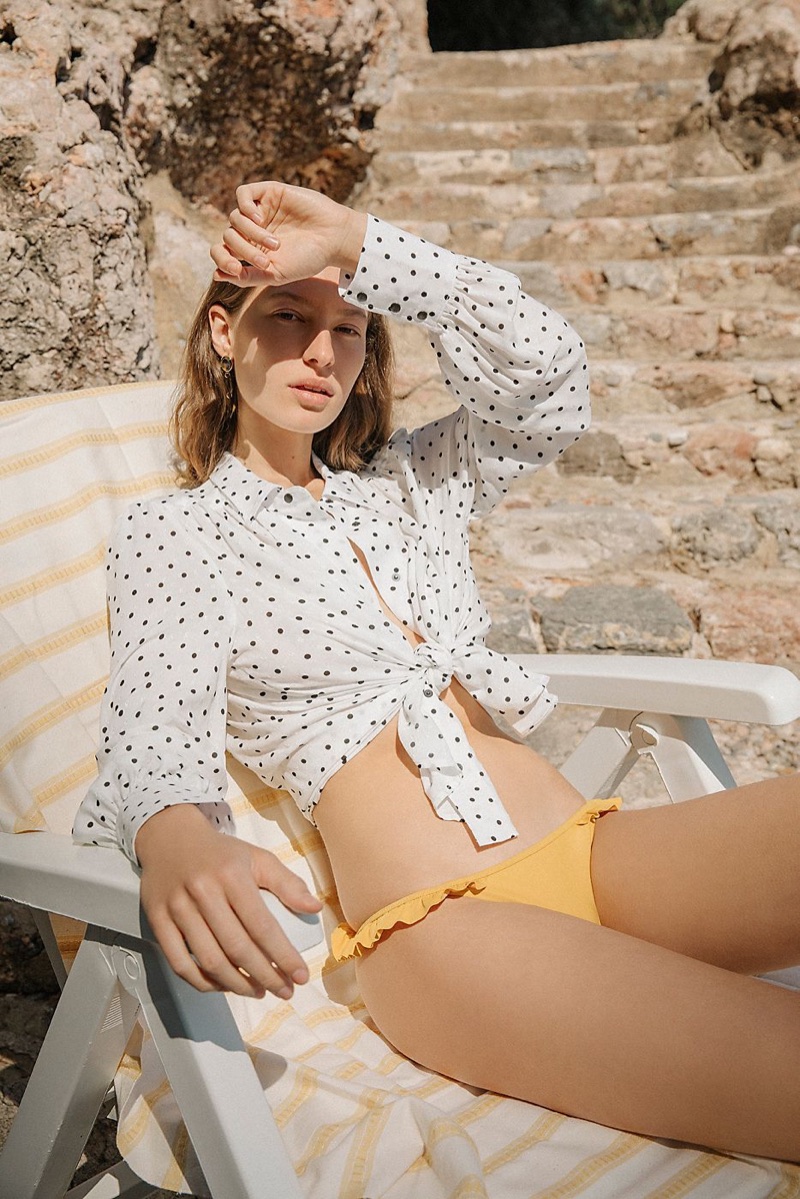 Free People 'I'm Yours' Polka Dot Top and Amuse Society 'Celeste' Cheeky Bikini Bottom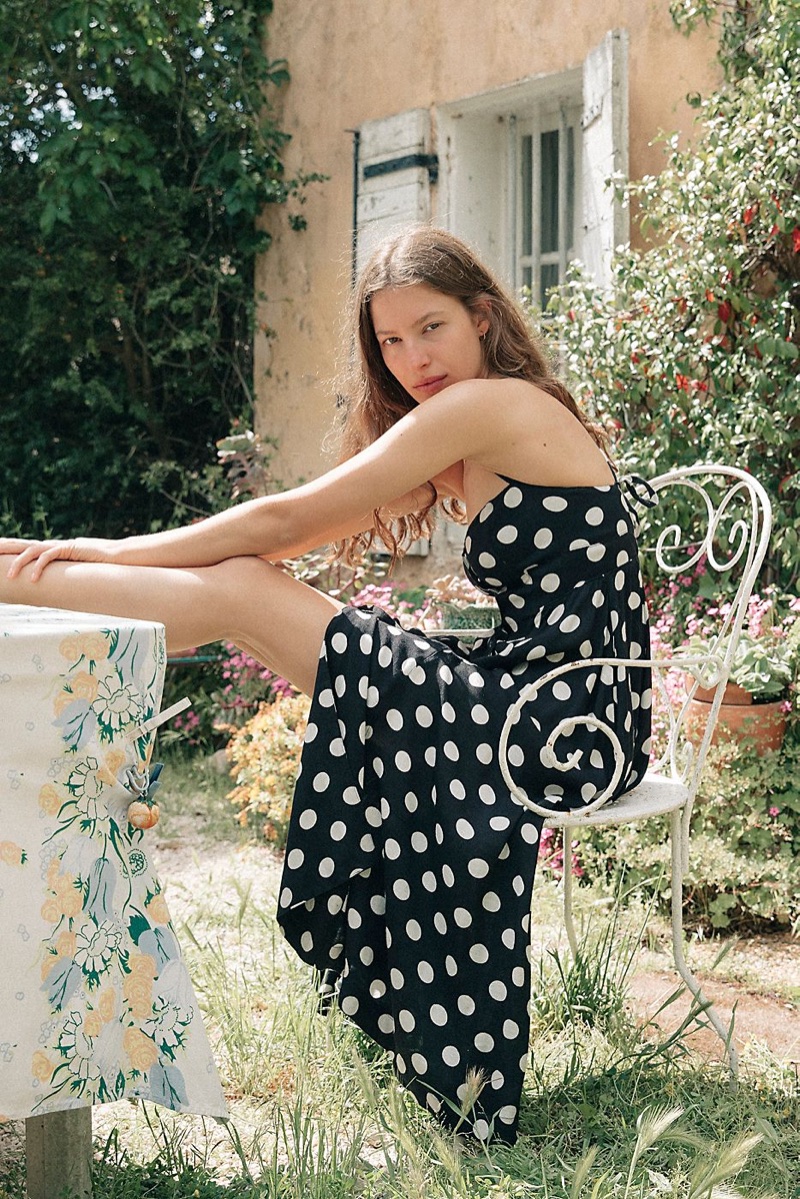 Free People 'The One Dot' Midi Dress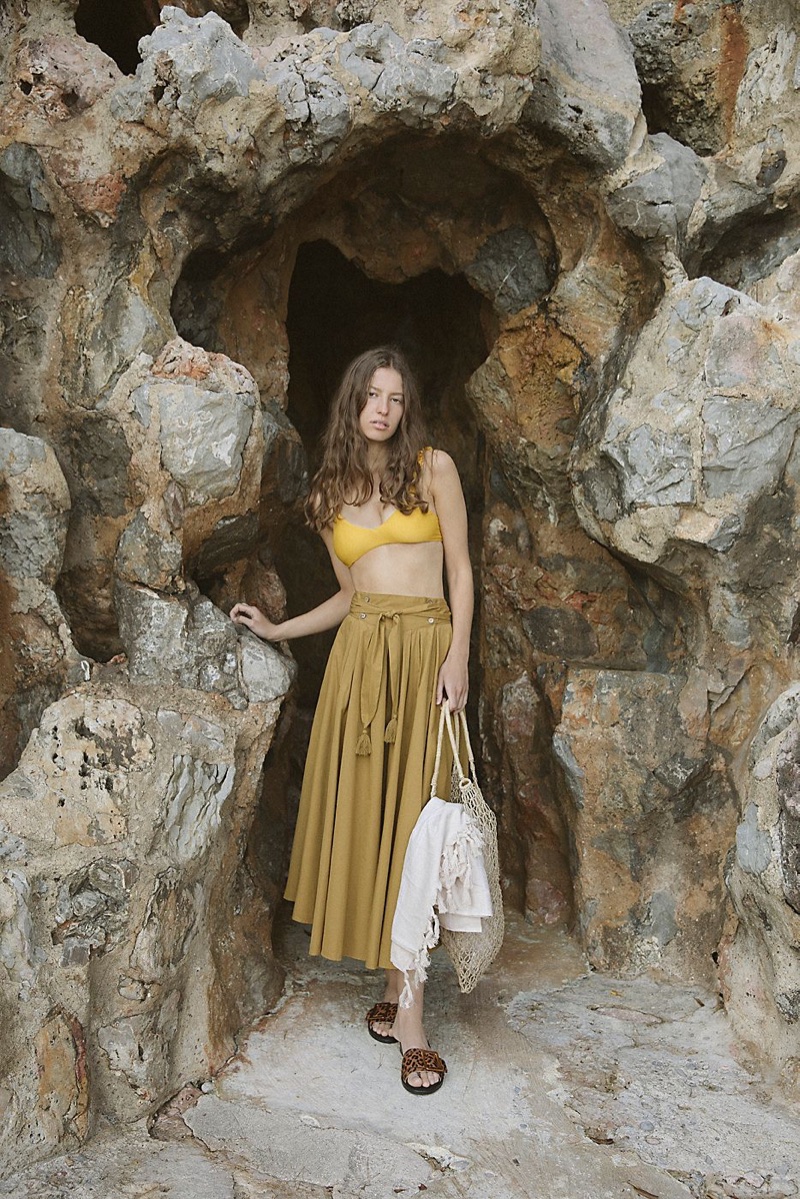 Amuse Society 'Belinda' Bralette Bikini Top, Endless Summer 'Sunrise' Skirt and Jeffrey Campbell 'Drew' Slide Sandal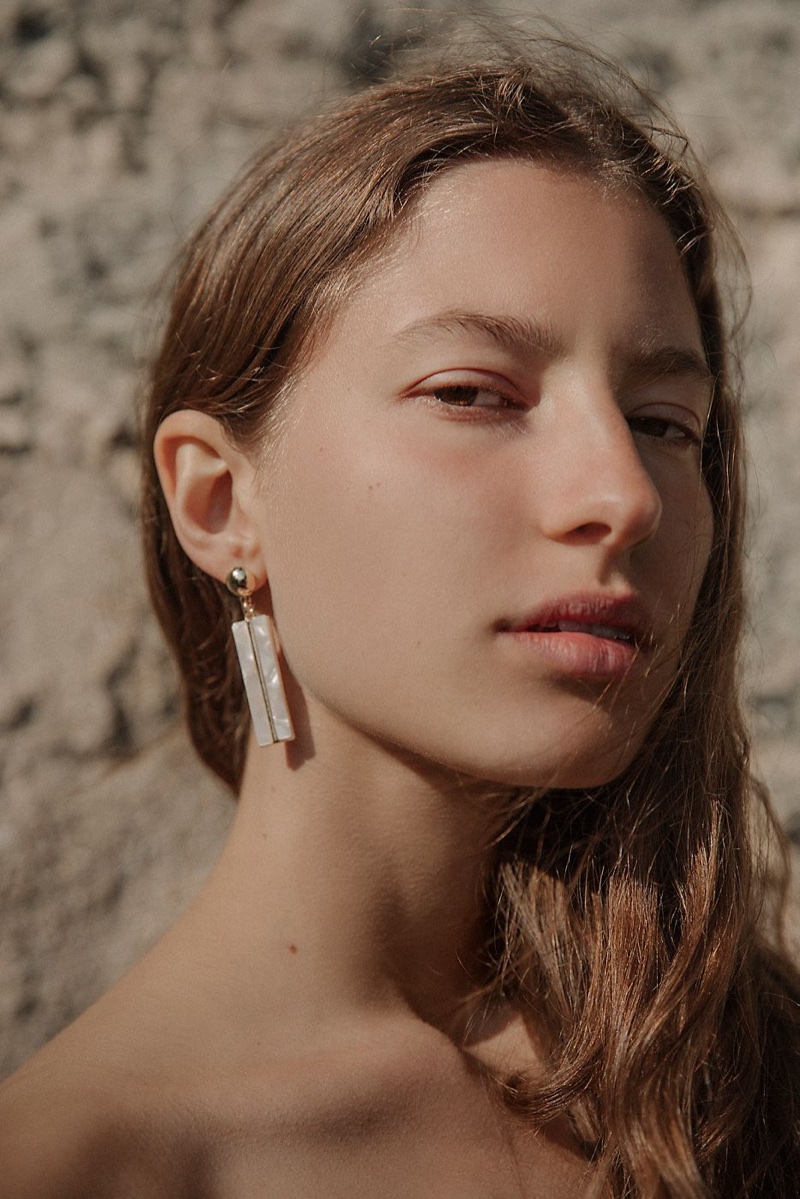 Zhuu Resin Bar Single Earring
Other Brands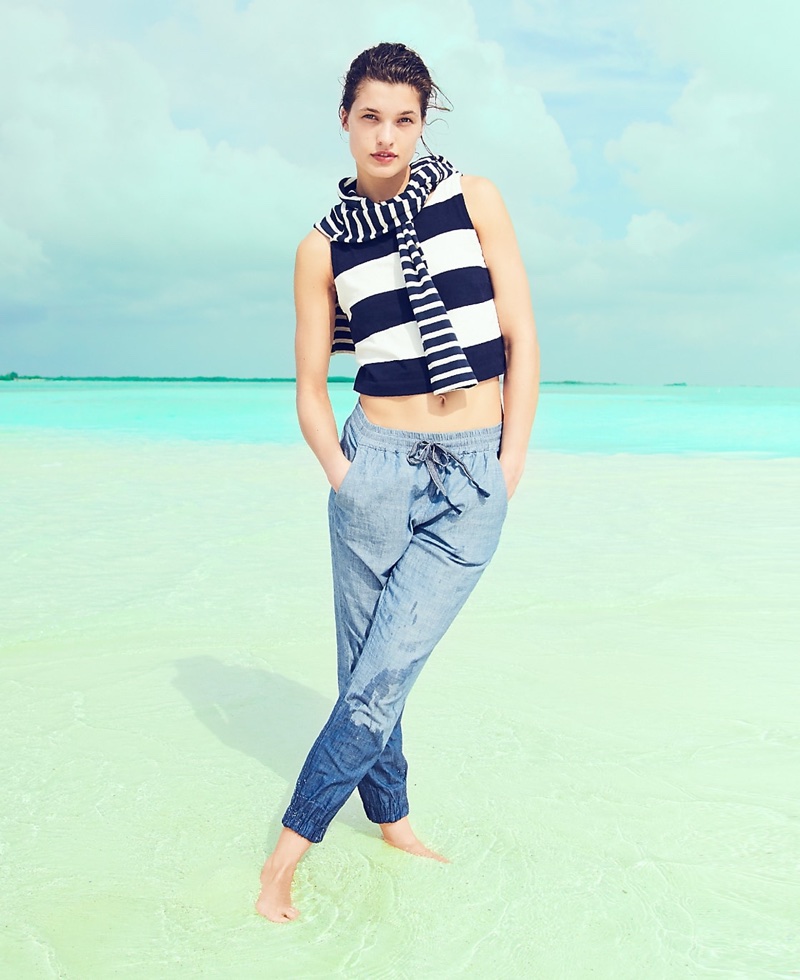 J. Crew Cropped Rugby-Striped Tank Top, 'Point Sur' Seaside Pant in Chambray and Saint James for J. Crew Slouchy T-Shirt (worn around neck)
Summer is here, and J. Crew has plenty of inspiration with a new trend guide. Perfect for those sunny days ahead, model Julia Van Os heads to the beach in stylish ensembles. In shades of blue ranging from navy to aqua and indigo, these pieces show the diversity of the hue. Spotlighting swimsuits, relaxed jumpsuits and lightweight coverups, J. Crew wins the summer season.
Related: Point Sur | J. Crew Spotlights Summery Styles
J. CREW BEACH SUMMER 2018 STYLE GUIDE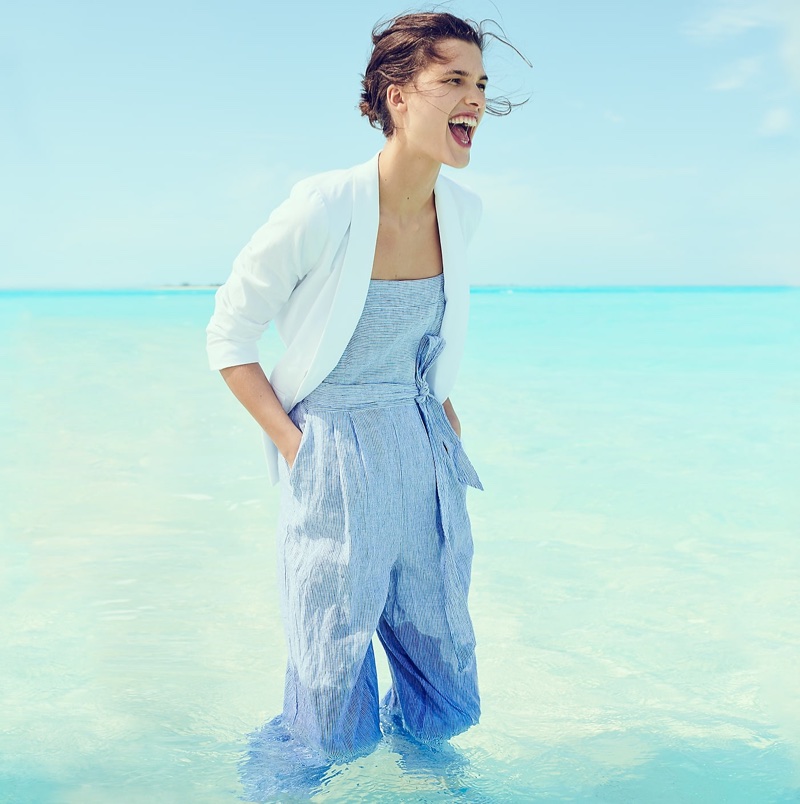 J. Crew Unstructured Blazer in Cotton-Linen and Striped Linen Jumpsuit with Tie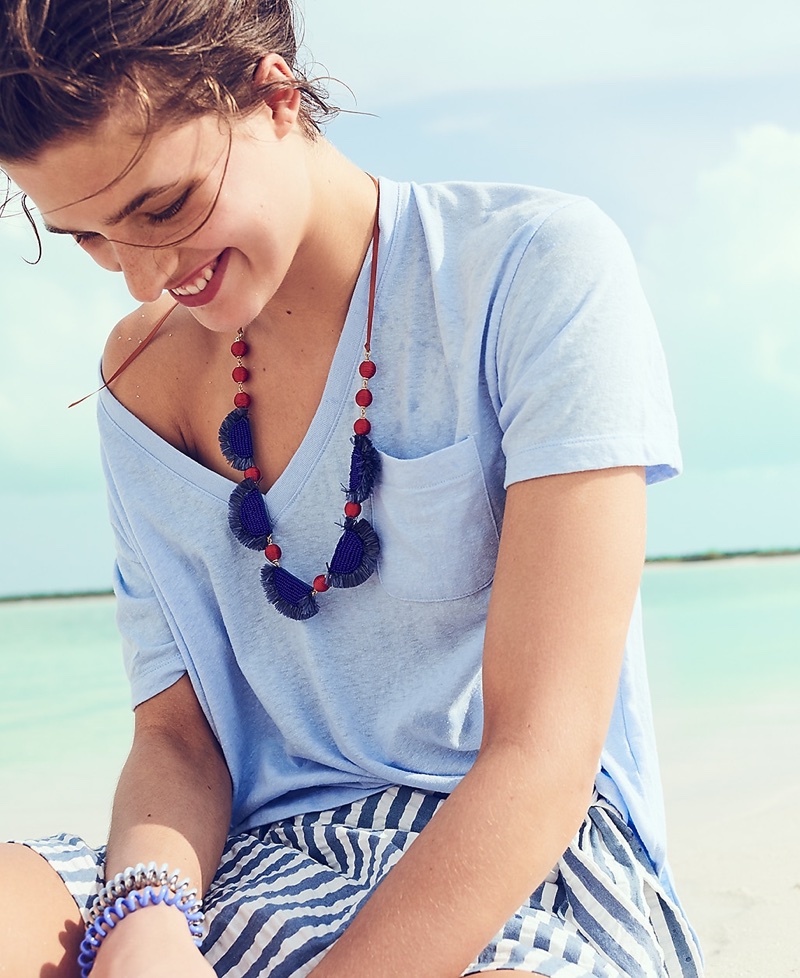 J. Crew Slub Cotton V-Neck T-Shirt, Bead and Raffia Necklace and Textured Wrap Mini Skirt in Stripe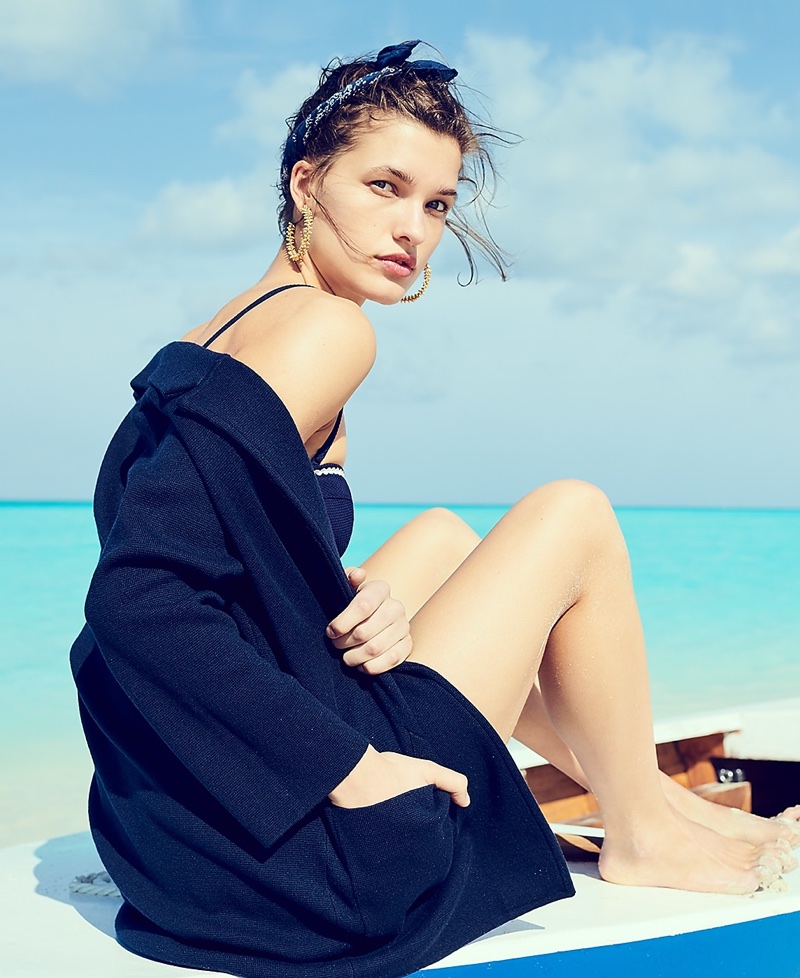 J. Crew New Lightweight Sweater-Blazer, Underwire Piqué Nylon Bikini Top with Rickrack and Bandana Scarf in Dot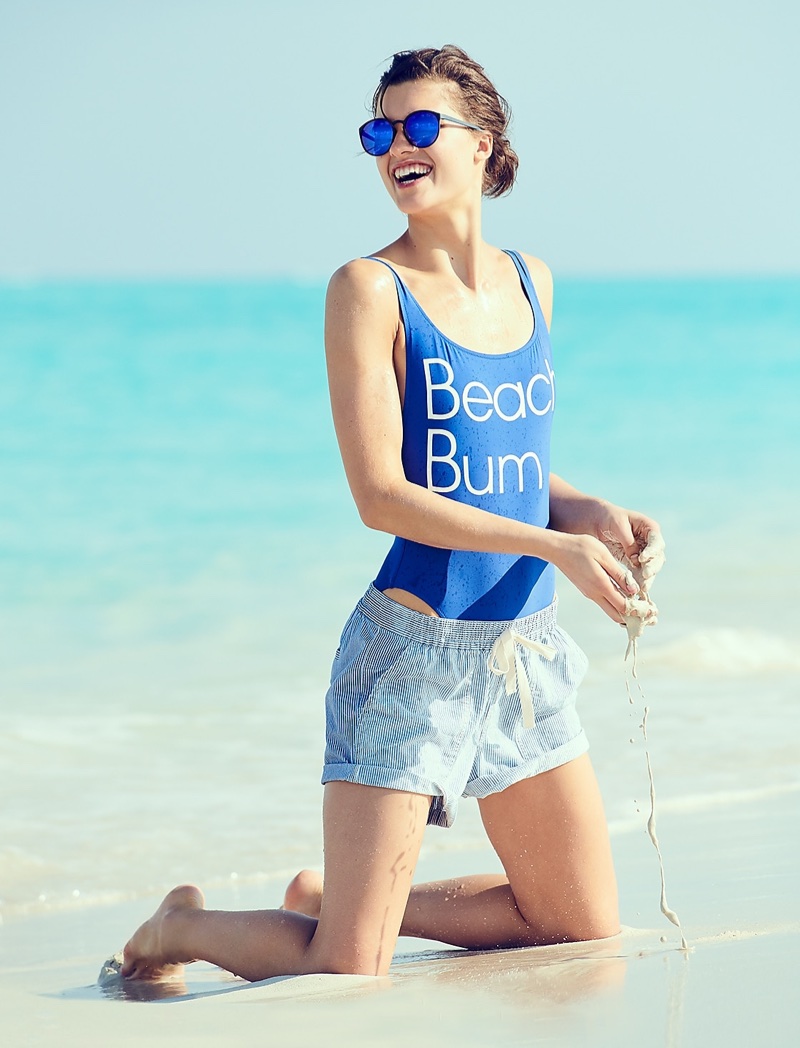 J. Crew 'Beach Bum' Plunging Scoopback One-Piece Swimsuit, 'Point Sur' Seaside Short in Stripe and Le Specs for J. Crew 'Swizzle' Sunglasses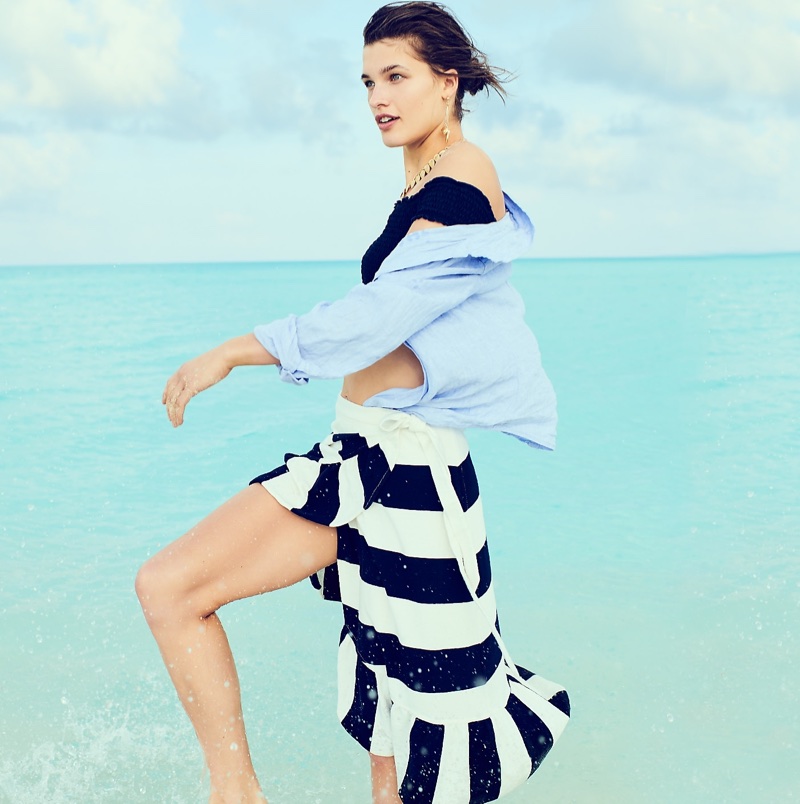 J. Crew Slim Perfect Shirt in Cross-Dyed Irish Linen, Smocked Off-the-Shoulder Bikini Top and Rugby Knit Wrap Skirt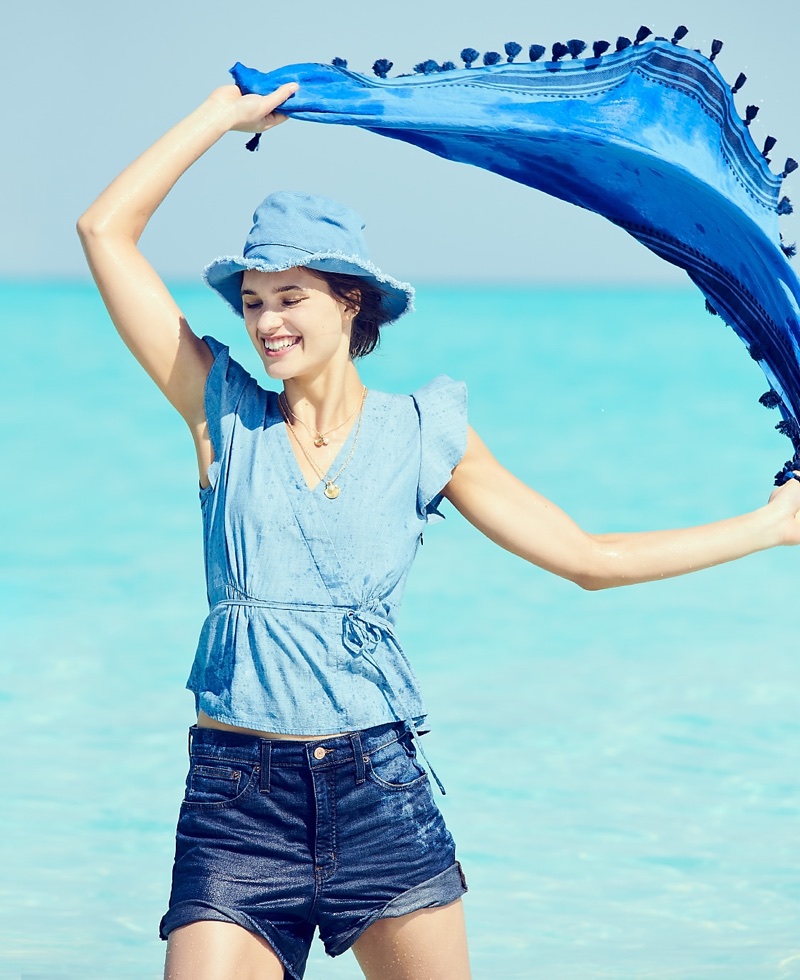 J. Crew Flutter-Sleeve Wrap Top in Chambray, High-Rise Denim Short in Brixton Washand Summerweight Pom-Pom Scarf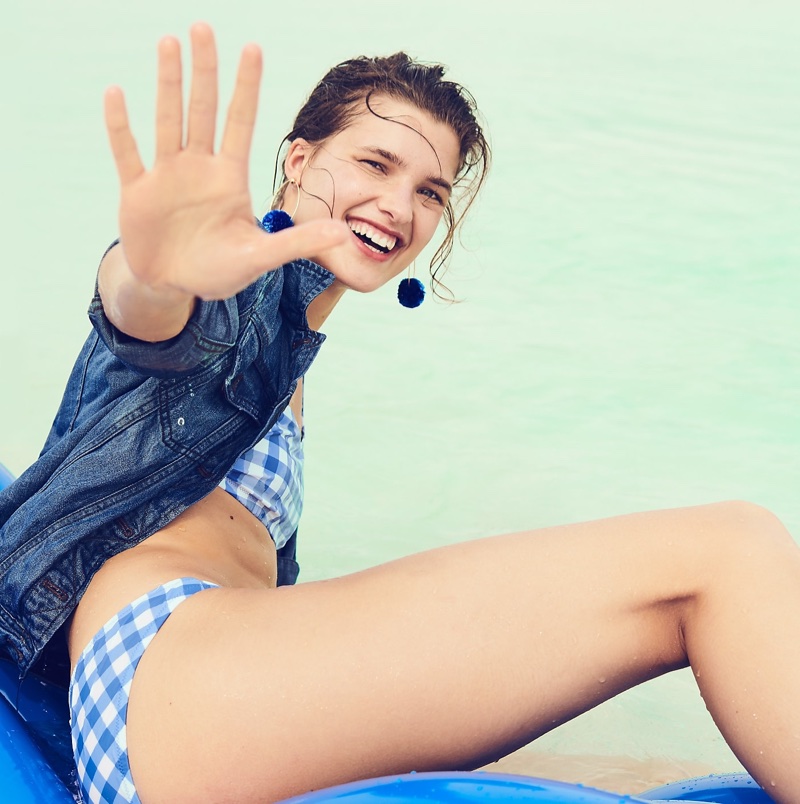 J. Crew Classic Denim Jacket, Scoop Bikini Top in Oversized Matte Gingham, Lowrider Bikini Bottom in Oversized Matte Gingham and Raffia Pom-Pom Earrings
Other Brands
A beautiful wallet or purse, new from Celine for the Summer 2018 Collection. It's called the Celine Multifunction Purse and its practical in the in- and outside.The design of the purse is mixed with feminine appeal, but also with clean and streamlined look. It's a more sophisticated version than the other Multifunctional Wallet that Celine has built in the past. And it's definitely worth taking a look.
The Design
The front makes anyone think it's a small ordinary wallet, but it's actually crafted from smooth lambskin leather, beautified with simple Celine logo on the bottom. The real beauty is the snap button and clasp closure on the top. It features a nice gold metal clasp for the ultimate chic'ness. This purse can be carried as an evening item as well; it's just too beautiful to keep it hidden inside your wallet, right?
The wallet comes with a plastic bag as seen on the runway show. So there is actually a style to it. The wallet is really pretty, but what's more important is the interior. So let's dive into that.
The Interior
So there few useful compartment that you want to be aware of (which is also why this wallet is one of the most practical out there). First there is a coin compartment, but of course it can be used for anything you like. Then there is also a note pocket, 3 flat pockets and 8 card slots. The interior lining is calfskin.
The Prices And Sizes
Measuring 5' x 4' inches, priced at $1000 USD, €680 EUR, £630 GBP, $1300 SGD, $7900 HKD, $1250 AUD, ¥110000 JPY, 7400 CNY via Celine boutiques.
More Images And Colors
Other Brands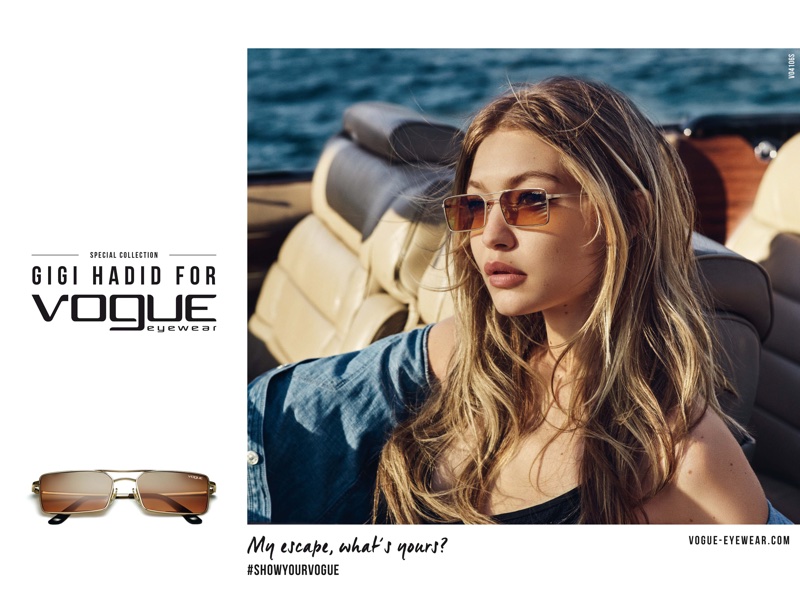 Back in February, we got a first look at the new Gigi Hadid and Vogue Eyewear collaboration for 2018. And now, the optical and sunglass brand showcases the second drop with this sun-soaked campaign. Gigi poses on location in Ibiza for the stunning shots captured by Luigi & Iango. The new styles include retro rectangular frames, cat eye silhouettes and oval shapes.
Related: Gigi Hadid Stuns in Black & White for Vogue Japan
CAMPAIGN: GIGI HADID FOR VOGUE EYEWEAR 2018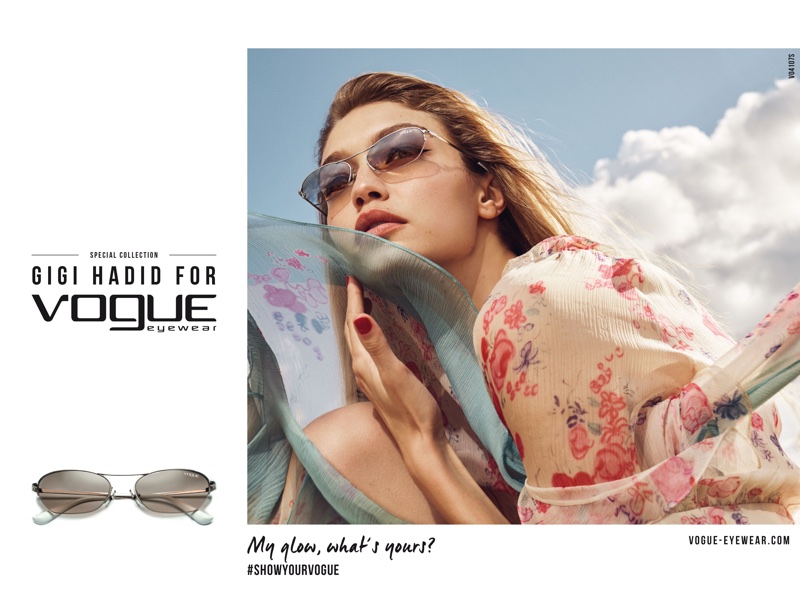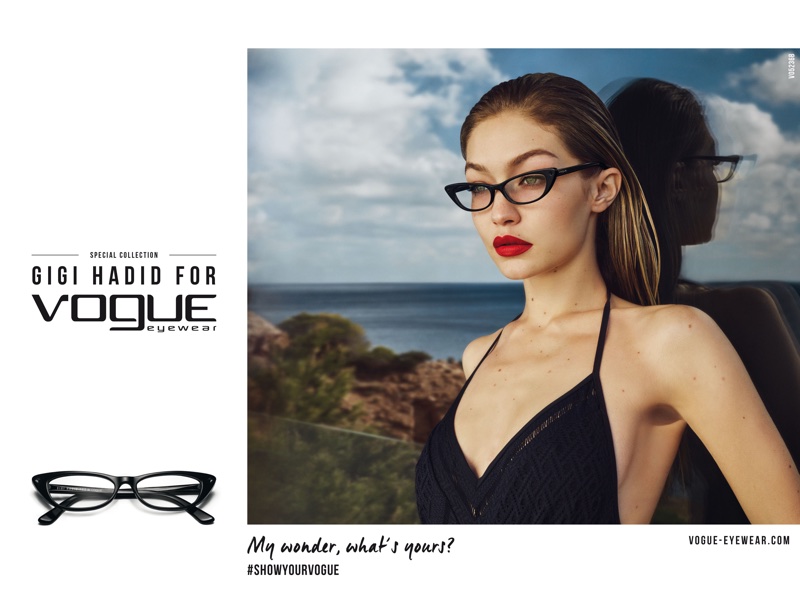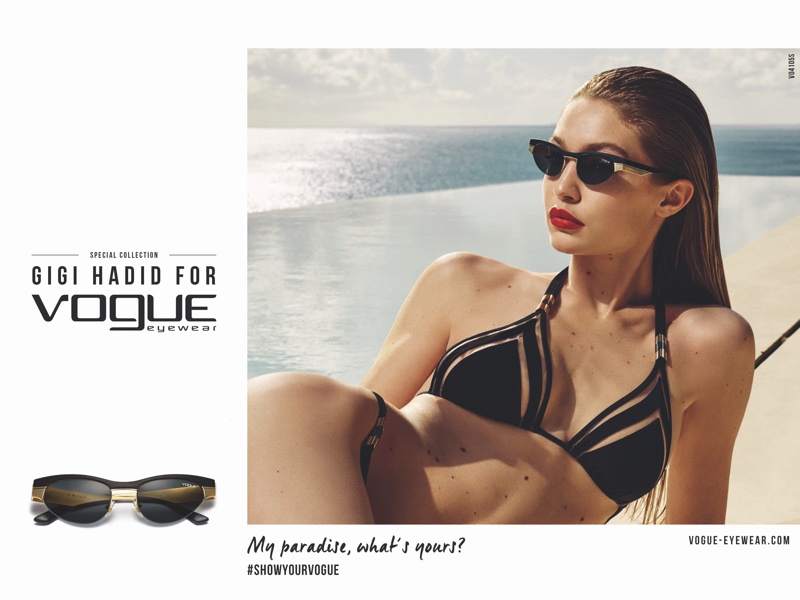 Other Brands
Gifting is an art that many people may not know how to pull off. Finding that perfect gift means that you have to consider the preferences of the recipient, the quality of the gift and of course, your budget. When you want to surprise someone, you aim for something unique. A personalized star map might be the most original way to preserve the night sky tonight or whenever something memorable happens. Is one out-of-the-box idea to try the next time you want to give someone a present. Customised star maps have become popular ways of presenting memorable gifts that hold a great significance to the recipient.
HOW IT IS MADE
The alignment of the stars is different at every moment of the day. Some of the patterns are repetitive, but they don't occur on the same day or time. It is possible to predict the position of the stars at a particular day, hour and minute using algorithms. Companies that create personalised star maps use these formulas combined with astrological data collected over the years to derive patterns that were in the sky at specific times. Therefore, a client gives the exact date, time and location then the mapmaker finds the corresponding star alignment. The map is a projection of the sky as it was at that certain moment from a particular place. Customers have the choice of downloading the map and printing it themselves. Alternatively, one can wait for the print to be delivered. It takes several minutes to identify the sky map, personalise it with a message then preview it and order for printing.
WHY IT WORKS AS A GIFT
The appeal of a personalised star map as a present is that it offers an opportunity to record an important memory in the form of celestial beings. For example, you can get a map of the moment your parents met to give them as a Christmas present. You can have a star map of the first date or first kiss with your spouse or significant other. A mother can get a sky map of the day she gave birth to her child. The specificity of the map gives it a personal touch that is essential in all gifts.
A star map provides a large canvas to include a special message to the recipient. The option of downloading the map yourself and printing it is a time saver. If you don't have time to wait for the delivery of the printed versions, this alternative offers great convenience. Additionally, you have the freedom to choose how to frame the map. With all the choices for customised frames out there, you can add more personality to such a gift.
Besides the projection of a specific event, you can get a star map with the official constellations like Orion, Cassiopeia and Leo. The existing constellation may hold special meaning to the recipient of the gift, or maybe you want a beautiful print to hang on the wall.
WHAT TO LOOK FOR
What makes one star map better than the rest? When shopping for a customised sky map, you have to know what to look for. Accuracy is critical when it comes to maps. The processes and formulas that a map maker employs to create a star map will dictate the accuracy of the projections. Astrology is a science, so you have to trust that the map is a close enough reflection of the real thing.
Quality is another aspect you should prioritise, especially if the manufacturer prints your star map. The image resolution and quality of the paper will determine how well the map turns out. Find out what specs a mapmaker uses for its sky maps before ordering yours. For the paper, ask about the thickness because it determines the durability. The ink should be superior standard as well to last the lifetime of the print.
A sky map consists of the cardinal points and the alignment of the stars at a certain day and time as seen from a particular location. These aspects make star maps some of the most personalised gifts you can get. Pick a special moment and order a print of the stars.
Categories

New Posts

Hot Posts