Fashion
The weather is changing, and that means it's time for boot season. And although we would all love to get a new pair of boots, sometimes you still have to watch your budget. Here we rounded up eight stylish booties available for under $200. These chic shoes include everything from crystal details to rebellious studding and retro suede. Embrace classic black or take a chance on a bold animal print. Check out our picks of affordable boots below.
Related: 7 Shearling Boots That Are Not UGGs
Booties for Under $200
Fashion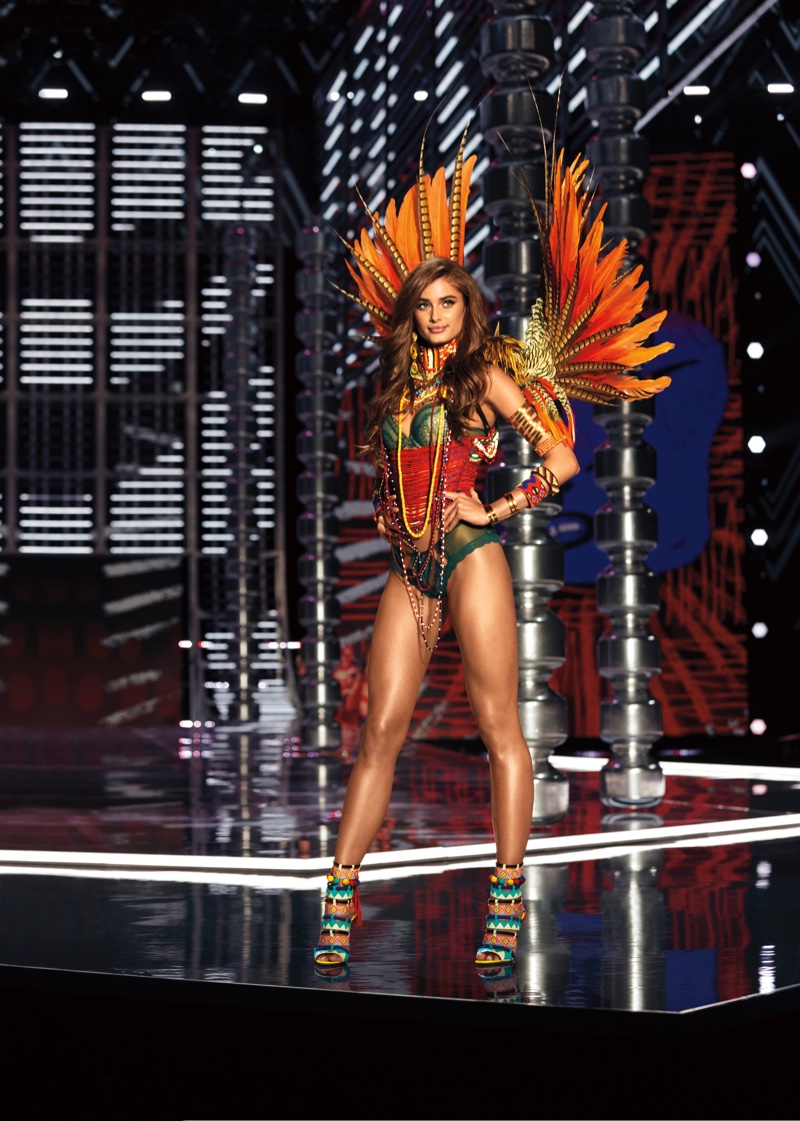 It's that time of the year again – the angels are back. Brace yourself, for the phenomenal Victoria's Secret Fashion Show (VSFS) will be making waves all across the internet very soon.
Now, on to the highlights this year.
No Place Like Home: Models to Walk the New York Runway
VS learned a painful lesson after last year's disastrous China debut in Shanghai that safe is always better than sorry. As announced on the brand's Instagram, this year they'll be bringing the sensational catwalk back home to the Big Apple, America's fashion capital.
The brand moved too fast and hastily with their Asia premier a year ago, evidently. Russian and Ukrainian models unable to get the appropriate visas were denied entry at the Chinese borders, Gigi Hadid and Katy Perry, the two biggest stars set to grace the stage were pulled and turned away respectively due to sensitivity issues of different natures, and the international press was banned from filming and covering the show. Unable to live up to the hype of a grand Asia takeover, the show lost its usual luster last year due to the scandals.
So, after two rather experimental years abroad – first in Paris then in Shanghai, VS Fashion Show 2018 is ready to return home.
A Lineup that celebrates womanhood: Winnie Harlow, Ming Xi, Behati Prinsloo & more
A diverse profile of models will be sent down the runway this year in the brand's latest effort to make an inclusivity statement, and among them is first-time-Angel Winnie Harlow. Despite her status as an established industry icon and international supermodel, this will be Harlow's first time gracing the runway alongside other Angels. Known for her unique Jolie laide look due to vitiligo, a condition that causes localized losses of skin pigments, the hugely successful 24-year old model has gained a massive 4.5M following on Instagram alone. But beyond skin-deep, she's loved and respected worldwide for vocalizing the more important accompanying issues of self-confidence and inclusion. Fans are overjoyed to see Winnie and the ultra-feminine lingerie brand joining hands in redefining the standards of beauty.
Not only is this year's show arguably more racially diverse than ever with the presence of ethnic models such as Ming Xi and Duckie Thot, equally uplifting is the fact that motherhood is celebrated with the post-labor return of Behati Prinsloo after a 2-year break from her angel wings. The 30-year old mother is as fit as ever and once again ready to take the world by storm. The 2018 show shall see not only a strikingly visual impact, but a meaningful one that speaks to contemporary women, too.
A Star-studded runway: Gigi and Kendall's places confirmed
The long-awaited reveal that Gigi and Kendall are booked for the show was made not by the models themselves, but by shoe designer Brian Atwood on his Instagram (@brian_atwood) post on 19 October. Brian, in his extensive caption, shares that he is over the moon to learn that the industry's favorite pair of model-cum-influencers will be walking down the runway in his larger than life creations in a month's time.
What about Bella Hadid? According to sources, it hasn't yet been confirmed whether the weeknd's girlfriend will be a part of the show. Let's hope she breaks the story on IG soon.
Show Date: 1-month countdown!
Like every year, the exact show date is not released until nearer the time. All we know is that it will be happening in more or less a month's time. Stay tuned on the brand's Instagram for the latest news.
How to watch Victoria's Secret Fashion Show 2018
Catch the glamour on streaming platforms such as CBS All Access, Hulu Live or tune in the show on your local TV channel.
If you decide to stream it, you can speed up your internet speed by overcoming (possible) ISP bandwidth-throttling with a VPN that is optimized for streaming the Victoria's Secret Fashion Show 2018 in HD.
And voilà! You're all set to enjoy the annual global celebration of beautiful lingerie. Now go ahead and stalk your favorite VS Angels for some juicy BTS snippets as they sculpt their godly bodies into literally, the shape of an Angel!
Fashion
Photo: Pixabay
When it is your last weekend of singlehood, there is no doubt you would want to slay the world with your killer looks! And why shouldn't you,after all, once you wear the ring, all your looks and outfits will be curated by your wife. So, why not make this last choice single handedly and look as stunning and classy as possible for your last night of freedom!
Sleek design, perfect fit, classic fabric and elegant craftsmanship, all of these combined in one are presented to you by these designer labels to give you a dapper look for any occasion! And what better day or perhaps, night can be other than your stag night! Whether it is a larger than life stag do in London or a hedonistic Amsterdam stag do, these designer suits will make you rule them all like a king!
We bring to you a comprehensive list of top designer labels that we can vouch for to give you a grand look for your stag do in their bespoke suits.
Louis Vuitton- The French fashion pioneer knows exactly what it means to be be uberly stylish! What began in the 19th century Paris as a trunk maker, Louis Vuitton now is at the pinnacle of high end fashion scene all over the world. From bags, accessories, sneakers to designer dresses and suits, LV creators can give you all to make you look like a fashionista. LV suits have the reputation of being sophisticated, classic and be modernistic in their design. If you are the mannered royalty, there is no better choice than Louis Vuitton.
Photo: Pixabay
Alexander McQueen- If your choice is inclined towards the unconventional look, then Alexander McQueen is your answer for all your fashion queries. The high end designer brand's expertise lies in making suits that will make you look stunning but with a twist in the design. The menswear of the designer label is meant to give you a mystic aura in the most stylish way possible, just like its skull motif!
Giorgio Armani- The uncrowned ruler of the Italian fashion, Giorgio Armani is one of the most respected designers of the entire world. Armani suits are a fashionista's dream! The polished design, the luxurious material and the intricate craftsmanship is all put together in one Armani outfit to give you a look that no other brand can give. No wonder, George Clooney choose an Armani suit for the celebration of his last night of freedom in Venice!
Givenchy- Founded and nurtured in one of the fashion capitals of the world, Paris, Givenchy is the true illustration of top notch French expertise and elegance. Enter your stag party venue in exquisite design and class wearing a Givenchy suit. The suits from the label are a sheer manifestation of intricate attention to detail, stylish design and perfect fit. Marking its presence in the French fashion scene since 1950s, Givenchy is the first choice of many celebrities like Kanye West and David Beckham. Are there any further reasons to not choose it!
Burberry- One of the most recognised names in the British fashion world, Burberry is also one of the designers when it comes to men's formal wear. The inventor of the trench coat, Burberry utilises all its expertise in making the most brilliant and finest of the suits to give you a dapper look. Experimenting with the most unconventional materials like tech-wool and lace, Burberry has made some of the most classic fashion pieces. If you like it out of the league, Burberry must be your call!
Fashion
Madewell Denim Square-Neck Top and The Perfect Vintage Jean in Fitzgerald Wash
As summer heads to a close, the temperatures are only heating up across the country. Luckily, Madewell has the ideal style guide for summer with a new trend guide. Model Hana Jirickova poses in the sun wearing a casually chic mix of denim, button-up shirts and lightweight dresses. Paired with slip-on mules and cat eye sunglasses, Madewell makes dressing for summer beyond easy.
Related: Easy Style | Madewell Spotlights Pre-Fall Outfits
MADEWELL LATE SUMMER 2018 STYLE GUIDE
Madewell 'The Remi' Mule in Stamped Lizard
Madewell 'Whisper' Cotton Ringer Tee in Damien Stripe and 10″ High-Rise Skinny Jeans: Drop Step-Hem Edition
Madewell The Oversized Jean Jacket in Capstone Wash and Halter Tie-Back Midi Dress in Clipdot
Madewell 'Courier' Button-Back Shirt in Festival Stripe
Madewell The Jean Jacket in Briarwood Wash, 'Whisper' Cotton Ringer Tee in Damien Stripe and Stretch Denim A-Line Mini Skirt: Button-Front Edition
Madewell 'Courier' Shirt in Lorelei Stripe and The High-Rise Slim Boyjean in Lita Wash: Step-Hem Edition
Madewell Ruffle-Hem Wrap Top in Clipdot and 'Adair' Cat-Eye Sunglasses
Fashion
Balenciaga Logo Sleeve Leather Moto Jacket $4,600
This leather jacket features graffiti-inspired branding at one sleeve.
Balenciaga spotlights its logo for its Fall 2018 ready-to-wear collection. From leather jackets to tote bags and branded sweatshirts, the French fashion house's logo takes center stage. Keep it casual in a colorblocked windbreaker or channel grunge vibes in a layered dress. See our picks from Balenciaga's fall arrivals below, and shop more at Nordstrom.com.
Related: Balenciaga Unveils Fall 2018 Campaign
BALENCIAGA LOGO COLLECTION AT NORDSTROM
Balenciaga Logo Colorblock Windbreaker $1,490
A lightweight jacket includes bold color-blocking with the Balenciaga logo front and center.
Balenciaga 'Ville' Logo Leather Bowling Satchel $2,100
This satchel bag comes in pebbled leather with a vintage-inspired silhouette.
Balenciaga Plaid Overlay Silk Dress $3,200
A silk dress is layered with a grunge-inspired plaid poplin shirt.
Balenciaga Campaign Logo Hoodie $750
Adorned with a campaign-style logo, this hooded sweatshirt comes in heather gray.
Balenciaga Everyday Plaid Calfskin Tote $1,740
A plaid calfskin tote bag is perfect for your everyday outings.
Balenciaga Back Stripe Shirt $1,050
This 100% cotton shirt comes with chic stripes and branding at the back.
Fashion
Supermodel Cindy Crawford graces the September 2018 cover of Tatler UK. Lensed by Yu Tsai, the American beauty wears a Chanel look featuring a wide-brimmed hat and tailored jacket. For the accompanying spread, Cindy poses in elegant fashions from labels like Armani and Oscar de la Renta. Styled by Sophie Goodwin, the brunette wows in embellished separates, sparkling gems and velvet.
Categories

New Posts

Hot Posts